VA IS FOR BOER GOAT LOVERS SUMMER JAM
Mark your calendar for a Youth Jackpot and two ABGA sanctioned hows the weekend of June 28th and 29th.The Jackpot show will be June 28th and the ABGA shows on June 29th.
***We are still taking sponsors for the youth show**
Sponsor forms are on the page title Jackpot and ABGA Show.
YOU CAN NOW FIND ALL THE PICKS TAKEN OVER THE WEEKEND AT THE LINK BELOW.WE WOULD LIKE TO THANK SHAUNNA BOWERS FOR TAKING THEM FOR US.
https://www.dropbox.com/sh/byzu2w3g274v63d/AACbYM8w2QQyir32nGdBvY26a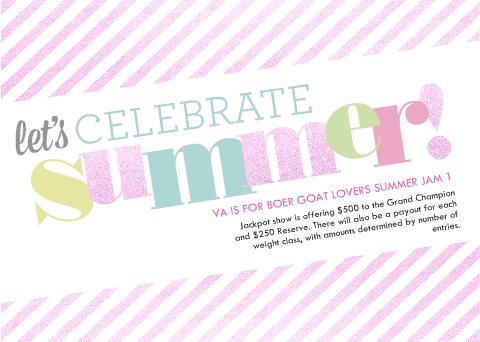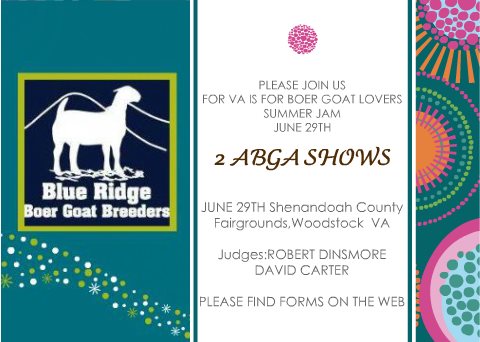 The Second annual Virginia is For Boer Goat Lovers Sale
Would like to thank all of our consignors, bidder and guests for a wonderful sale. We hope that everyone enjoyed their time and again thanks to all for a smooth sale.
We are also accepting new members, please contact for more information and a membership packet.
Please check us out on facebook under Blue Ridge Boer Goat Breeders and the Virginia Is For Boer Goat Lovers Sale page, we are adding new things each week.Click like and stay updated with us.
ANYONE WANTING TO BOOK A HOTEL ROOM: The Comfort Inn right next to the fairgrounds.Comfort Inn 1011 Motel Drive Woodstock, VA 22664 540-459-7600
If you would like a Blue Ridge Boer Goat Breeders tee shirt please let us know so that we can order you one.
Prices: Tee-Shirts 19.00
Hooded Sweat Shirts 32.00
Both incluede shipping and handling.